Sooo, on my fifth round at the range this weekend, my vector failed to fully seat a round. This is not irregular, however, this time the thing fired! The charge blew the shell open, burning my hands. The pressure caused cracks on both sides of the lower receiver. I am dealing with Kriss now, they want me to send it in for warranty repair. The problem is with the one year warranty. What happens if this occurs again outside of the warranty? Should I ever even trust this gun again? Have any of you ever had this happen?

tmoney




Posts

: 2


Join date

: 2014-01-10



Yes, this actually happened to me as well.  Luckily I was not hurt badly.  My front hand was a little numb for a short time after.  Sorry to hear you were burned.  

It happened to me well after the warranty expired and they fixed everything without question.  I believe they actually replaced my slide assembly.  I think they had some issues with buffers (or whatever the green soft piece is called) in some of the CRBs.  I was having a lot of feeding issues with my gun and tried to fix it myself by cleaning and oiling my gun.  After I had a round breech, if I have any more feeding issues I will immediately be sending it back to Kriss.  Since I sent it into Kriss and they fixed it, I have not had a single feeding issue.

drowe26




Posts

: 6


Join date

: 2013-08-21


Age

: 47


Location

: Austin, Texas



Wow got any pics of the broken guns?
Sorry its been so long since ive updated here fellas. I do have all the pics showing where my gun is broken. I tried to upload them but i am having trouble posting them. Id be happy to email them to anyone that wants to see them. Has anybody else dealt with kriss on this type of isse? They WOULD NOT refund my money, only fix the gun. Im pretty pissed about it so any thoughts from you guys would be greatly appreciated.

tmoney




Posts

: 2


Join date

: 2014-01-10



Pretty sure mine did it to. Was at the range the second time, gun was cleaned and oiled and I was shooting a few round, two or three slow fire and seeing where they hit and adjusting the sights accordingly. When all of a sudden I pulled the trigger and I got a funny sound, still a bang but different, lots of smoke came out of the gun ejection port area. I checked the gun, ejected the round that was in the chamber and looked on the ground for the empty case. I couldn't find any ruptured cases, even when I went home, I went though everyone I had fired and couldn't find anything out of the ordinary. later on it did it again and I still couldn't locate a ruptured case. I think mine is shooting out of battery by not having the bolt go forward and seating a round all the way into the chamber. Since there is no forward bolt assist or anyway to fully seat  the bolt all the way forward in the KRISS design, this can happen.  I started watching the bolt and noticed that the bolt would sometimes hang up just a hair from closing completely from time to time. Rounds were clean, in spec and brass, not steel. This is why they quietly designed a new hammer, to keep the KRISS from firing out of battery. The rounds pictured here would not fire the day before. Some I tried to fire two and three times. No Bang. Saved them and brought them back out after I had shortened the firing pin spring.  Everyone of them went off without a problem.
Added a new scope too, SigTac Compact Prismatic Rifle Scope. I don't know the complete History of KRISS, but somewhere along the line they changed their name from  the Transformational Defense Industries Inc. to KRISS USA. http://investing.businessweek.com/research/stocks/private/snapshot.asp?privcapId=116048429
http://www.smallarmsreview.com/display.article.cfm?idarticles=1607
Maybe we are all having problems with the older TDI KRISS's, I don't know, maybe someone can shed some light on the company's history. I believe this is the reason for a one year warranty.  Don't take this the wrong way, I like my new toy, but if something is wrong with them, they need to be fixed. I bought a previous year Honda and you know what, Honda still covered any warranty issues or recalls even though I wasn't the original purchaser..  
 No Questions asked!

Hugo Stiglitz




Posts

: 10


Join date

: 2014-07-17


Location

: Tucson Az



Just saw the article posted on the Firearm Blog today.....I wonder if there are others that suffered this fate???  Running my mags at a recent 2x4 stake shoot....while firing, an unusual pop...big cloud of smoke and my magazine floor plate, spring, and unfired rounds all dump on the table...fortunately no injury, but the mag catch blew apart.  Customer service was less than gratifying.  The two year warranty sure didn't help me since I purchased my CRB in 2011.  Nonetheless, I dutifully sent it in and waited nearly 2 months for an estimate.....a $774.33 estimate....this included required and suggested repair/replacement work.  I cannot say that I'm happy that what I feel is a potential safety and liability issue.  Closed bolt semi-autos should NOT fire in this mode....for obvious reasons.  All I can say it is still a unique firearm; however, next time I spend close to $2000 on a firearms...I'll look for a company that stands behind their product.  I have pics of ruptured case that clearly demonstrates the round was not seated at the time of detonation...I'll post them as soon as I figure out how to....
Howard P..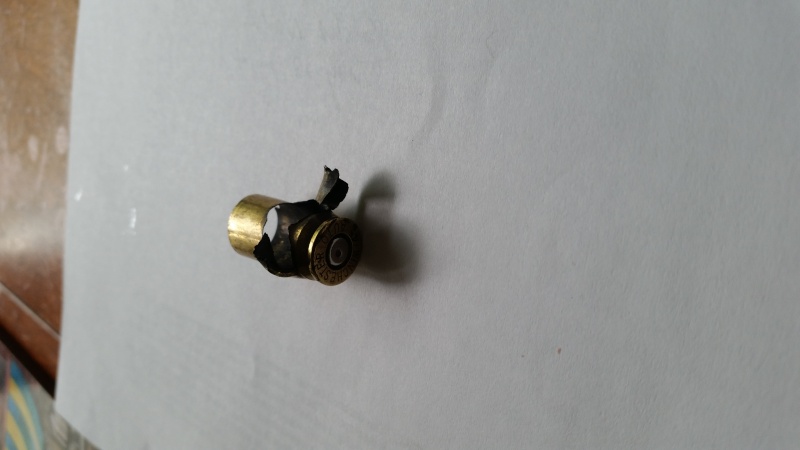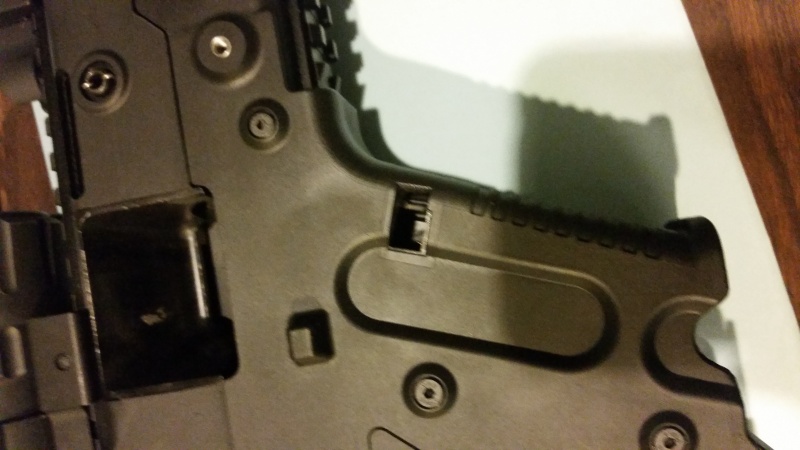 haac




Posts

: 1


Join date

: 2014-10-08



Yeah I posted that on TFB. Yeah my gun has a lifetime warranty.
Wow I know this post is old but that's how my casing looked when I had my out of battery detonation.

Nathancl22




Posts

: 4


Join date

: 2015-03-23



---
Permissions in this forum:
You
cannot
reply to topics in this forum