+6
CatMostFeared
Solscud007
AZ2000
Jedi380
mambro
RubbaDubbaBubba
10 posters
Venting my Barrel Shroud
Well, this will be my fourth thing to post. I hope that they're useful.
Went shooting and as usual the barrel shroud gets hot and stays warm for a while. I'd would like to purchase a vented shroud but, two things stand in my way.
1. The high cost of the shroud.
2. Can't buy something when you got nothing.
So, I'll do then next best thing and hope I don't screw it up. So I thought, do I want a plain Jane straight drilled tube? Nah, why be normal. I decided to do a four rows, seven holes per row and added a spiral turn for effect.
So if your interested, let's get going.
Tools:
- (1) 3/16" drill bit
- (1) 1/4"-3/4" Step drill bit - Harbor Freight Item #44460 - makes a cleaner hole that a large bit does.
- (1) Drill press or (1) Hand drill complete with a steady hand
- (1) Metric ruler. paper and markers
- (1) Debur tool - General Instruments #481 about $9.00 comes in handy for a lot of projects
- Scotch tape
- Jig to hold shroud - Notch a "V" into (2) 2"X4"'s X6" to use as a stand to hold shroud steady while drilling.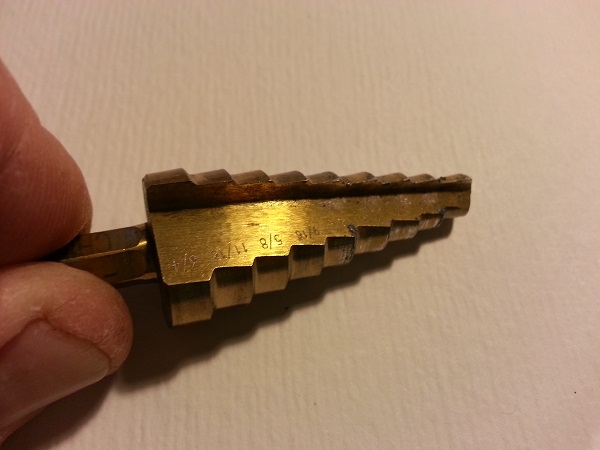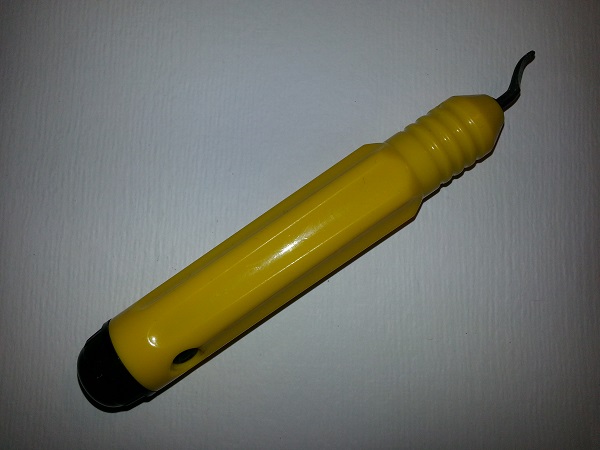 OK, my shroud is 120mm in circumference and is 315mm long. I lined out a grid on paper and cut to use as a template to wrap around my shroud. This will give me my locations to drill the holes for venting the shroud.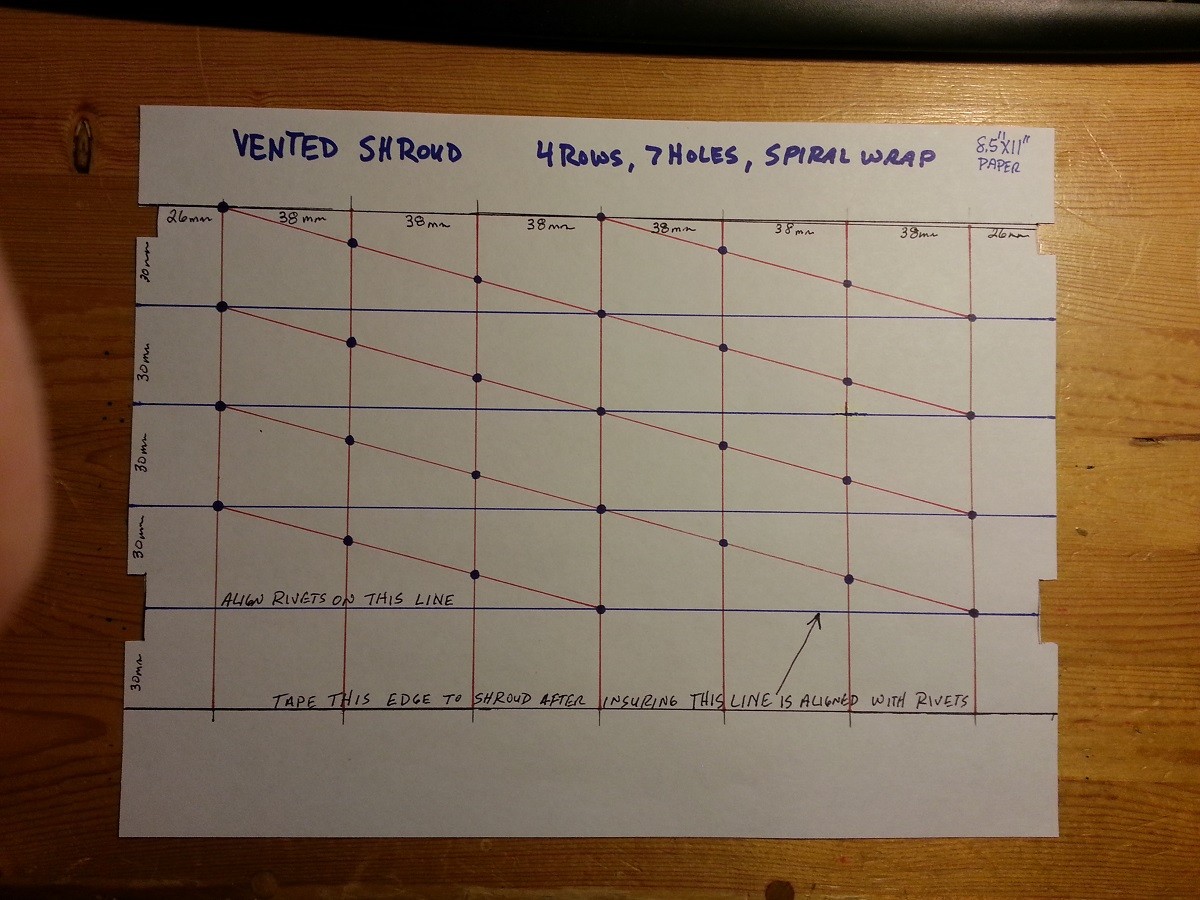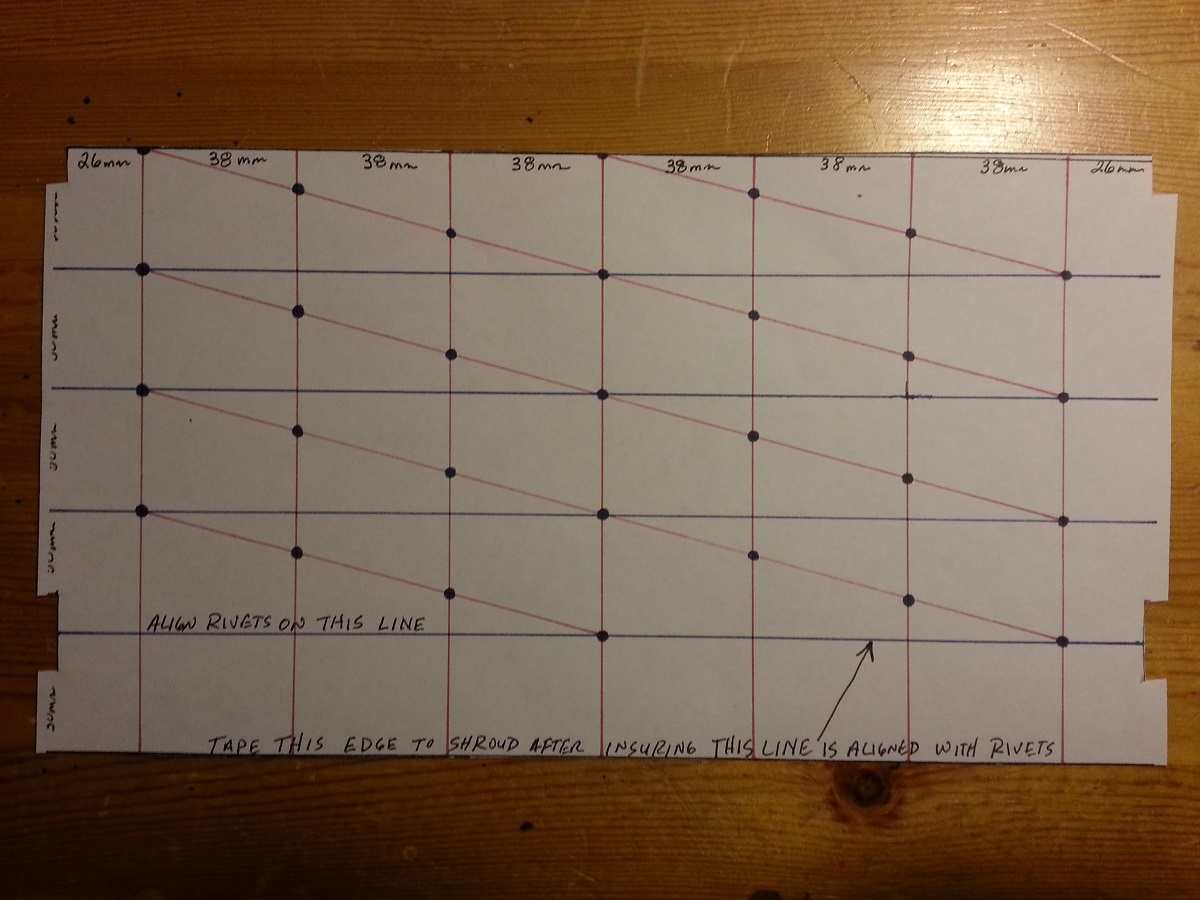 Next I take the template and place it between the rivets on the bottom side of the shroud and lineup the line with the rivets. Now with the line aligned with the rivets, tape down the template. Now, wrap the template around the shroud and the edge of the opposite side should line up on the line you placed between the rivets. Now tape that down and your ready to drill.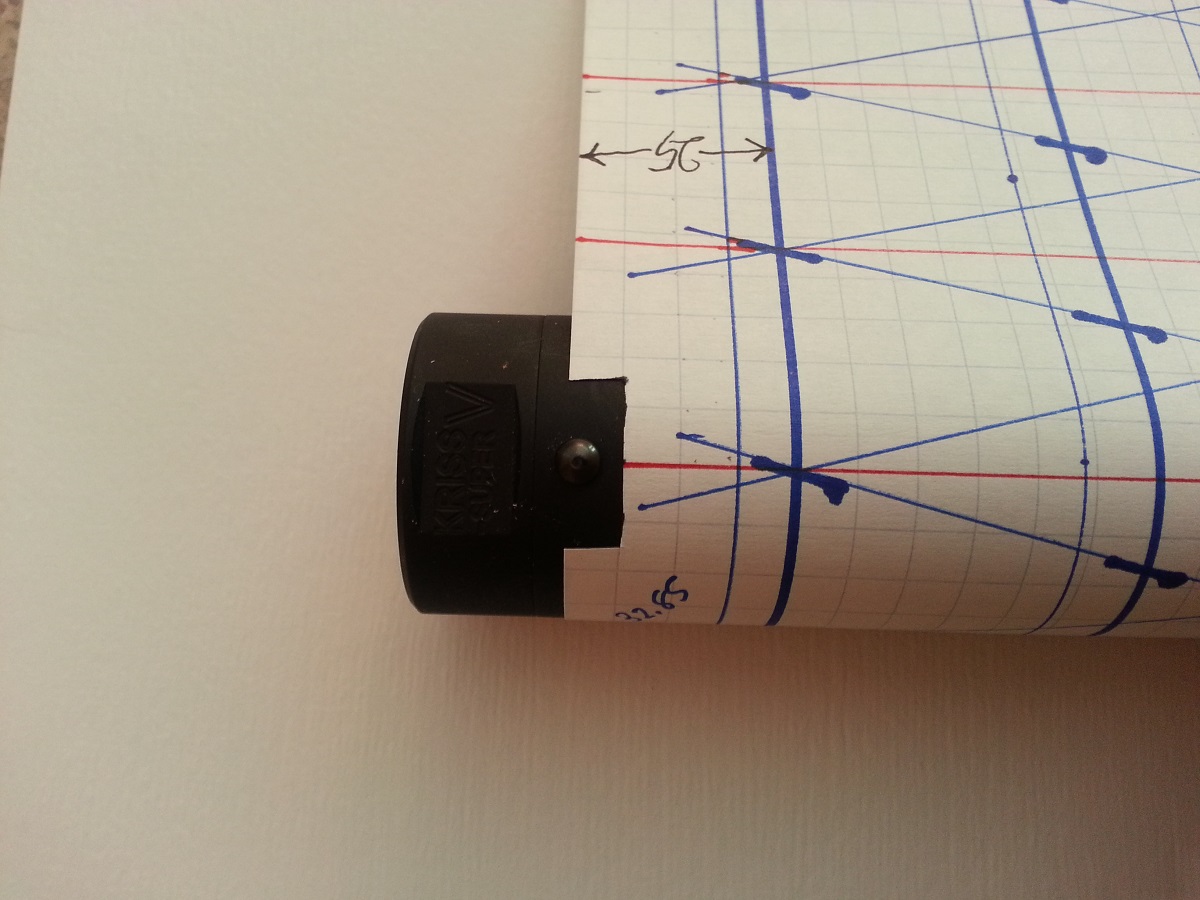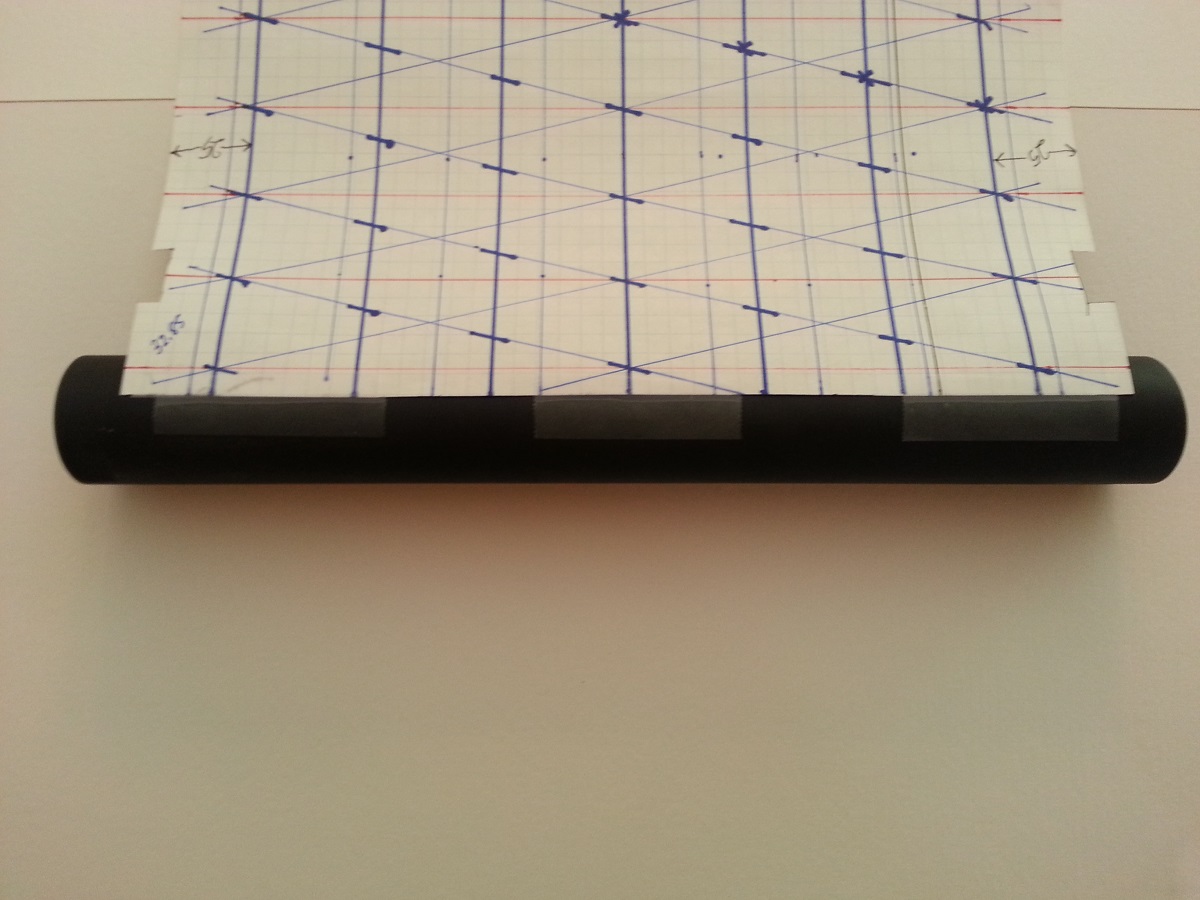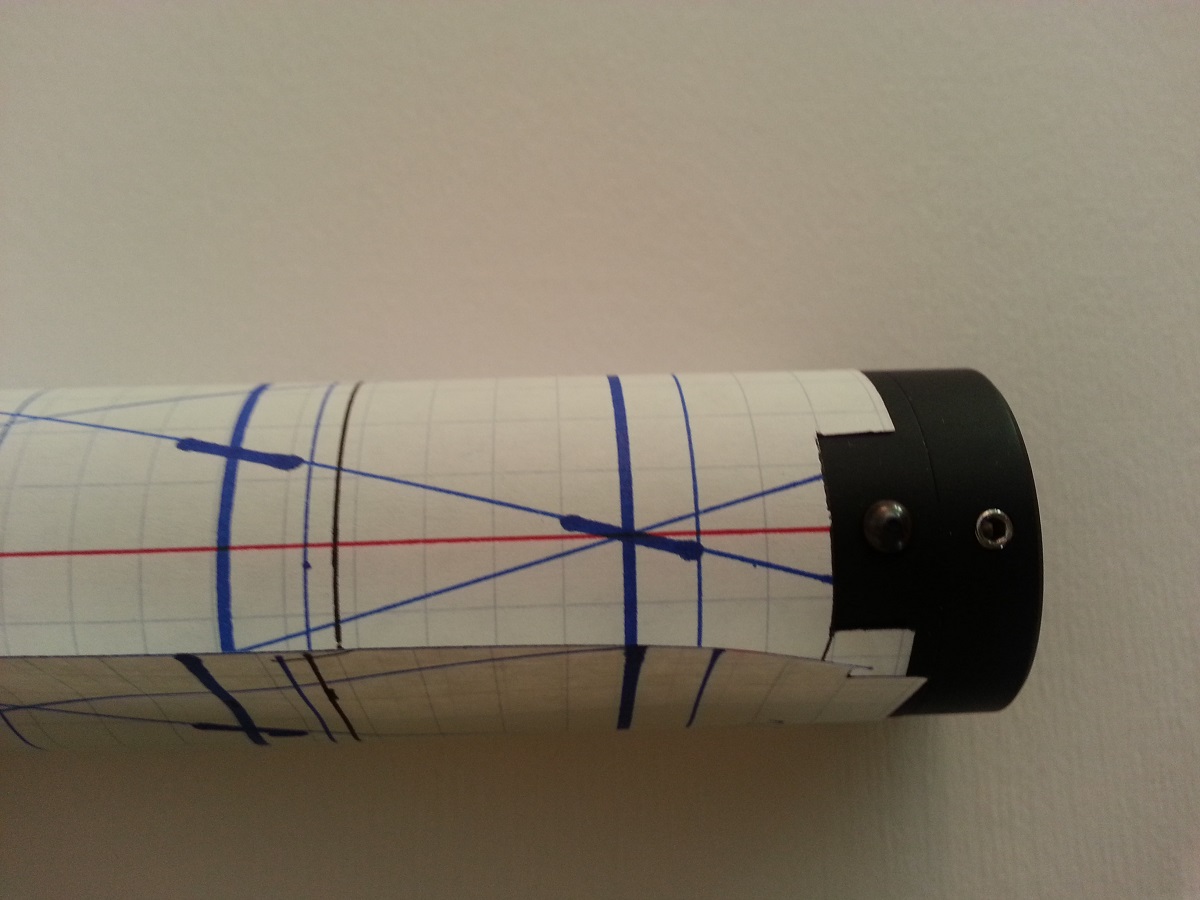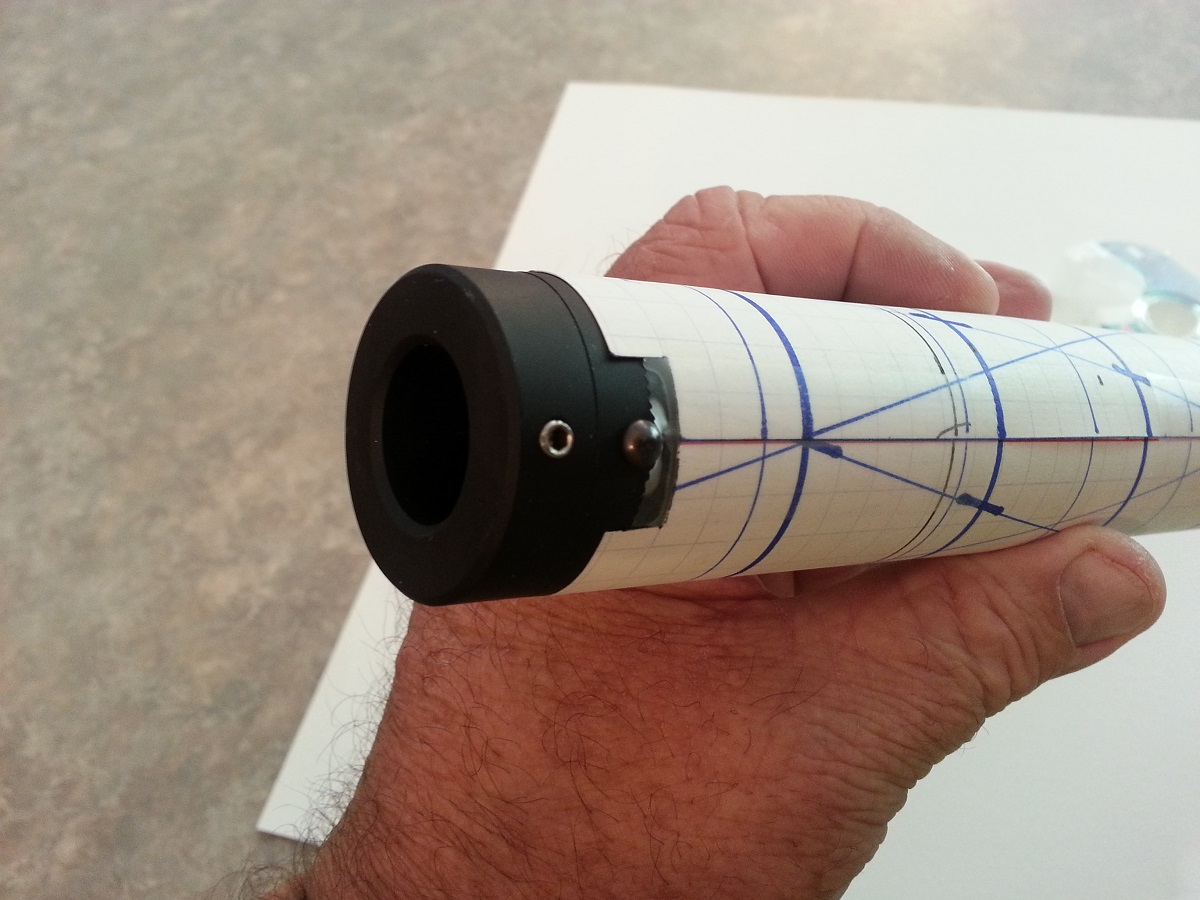 Using the jig that you made, place the shroud in the "V" and align 3/16" drill bit over the intersecting point chosen to drill. Hold end of tube to keep in place while drilling, when done move over to the next point and proceed til all holes are completed. When done, repeat process using the 1/4"-3/4" step bit for your holes. For step bit on drill press, choose the size hole you want for venting. I chose 1/2" and set the depth stop accordingly for the step drill bit. Drilling by hand will take longer but it can be done, just have to be observant to what you're doing.
Once the holes were drilled to proper size I used the debur tool to remove any rough edges or flakes clinging to the edge of the holes. When done deburring the edge around the hole is beveled a little and show a aluminum around the hole, looks kinda neat. You'll have metal flakes inside the tube cling to any crud inside so I turned up the hot water heater to 140 degrees and flushed it out rather than use a degreaser. Advantage with using the very hot water it tends to dry almost immediately.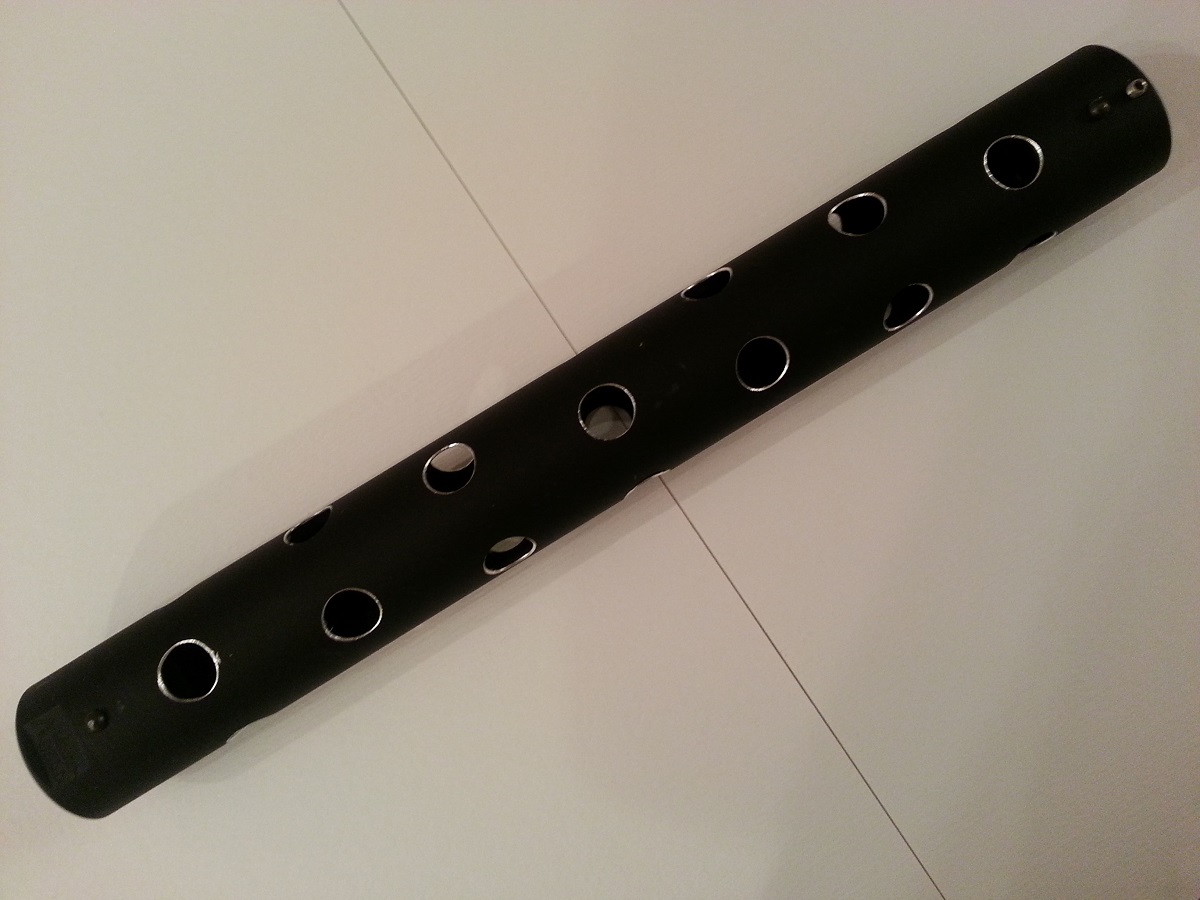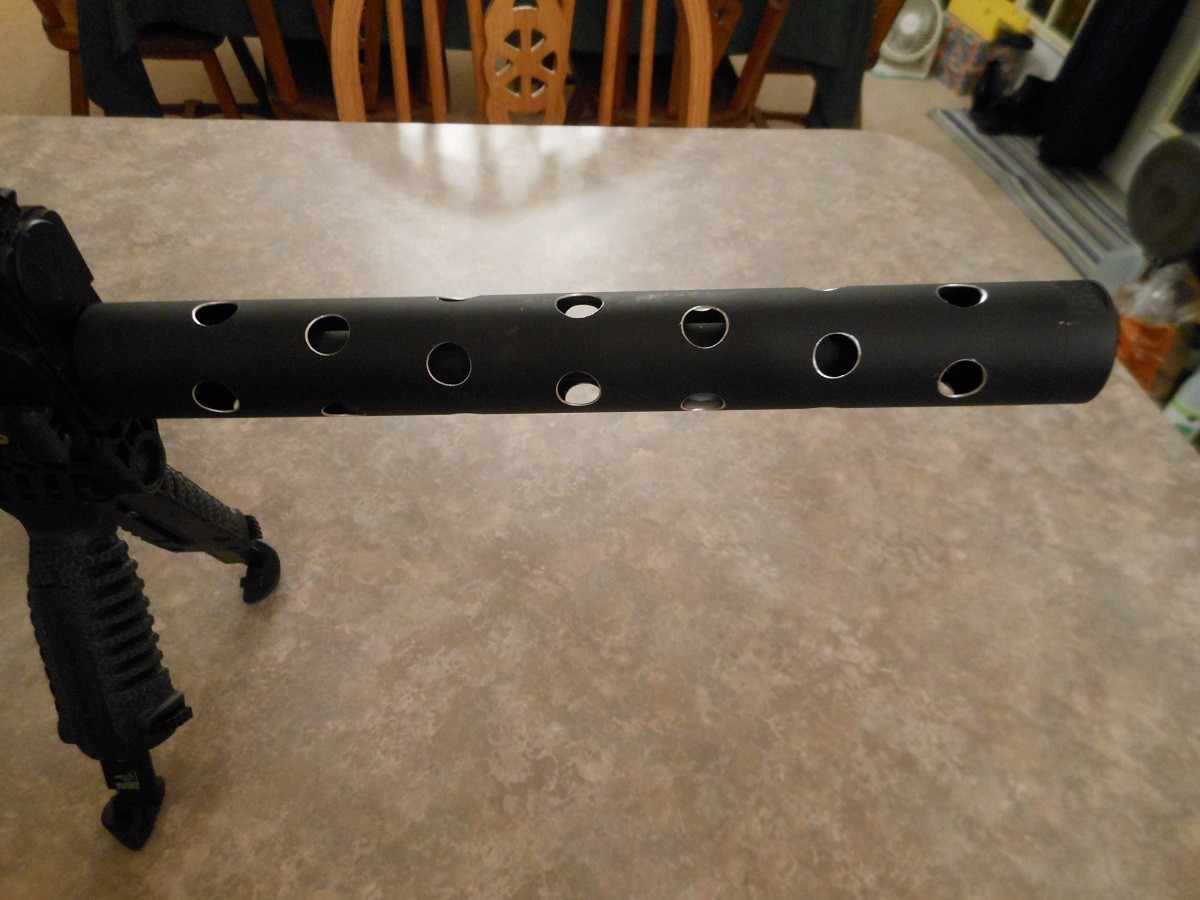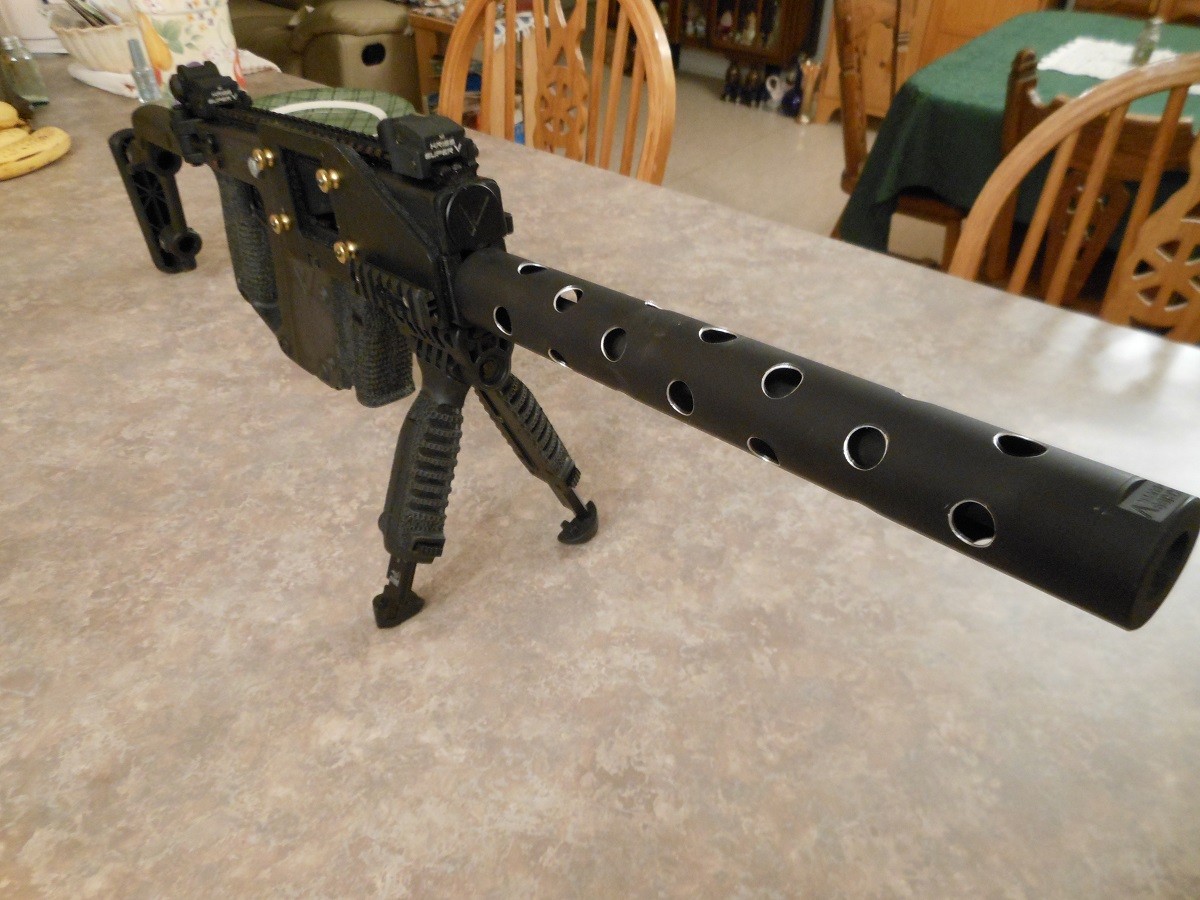 He's an additional thought for you guys...
Use the step drill bit to make your vent holes and a 3/32" bit to form the letters.
I can't give you a picture of a finished shroud because mine I is drilled as above.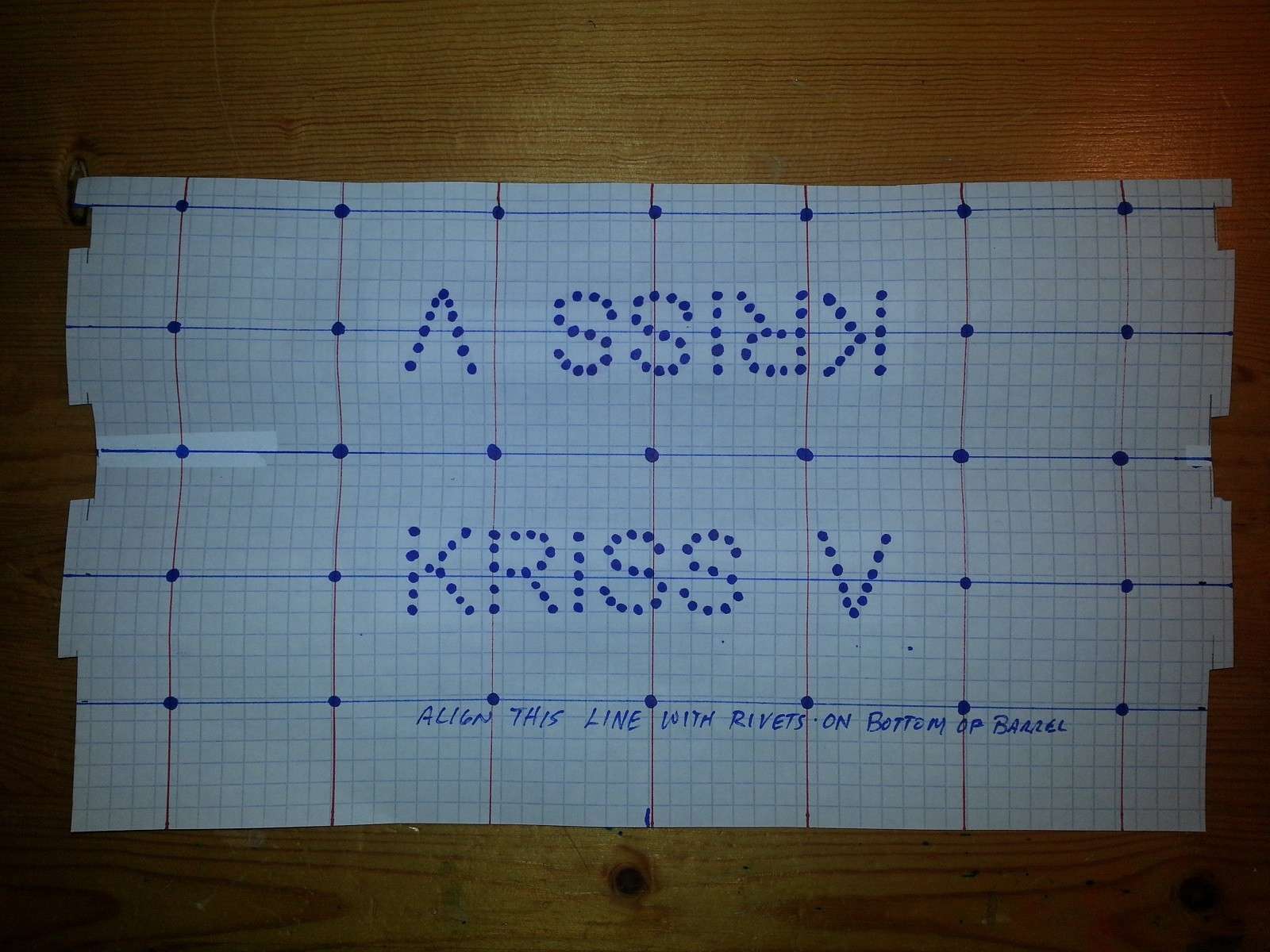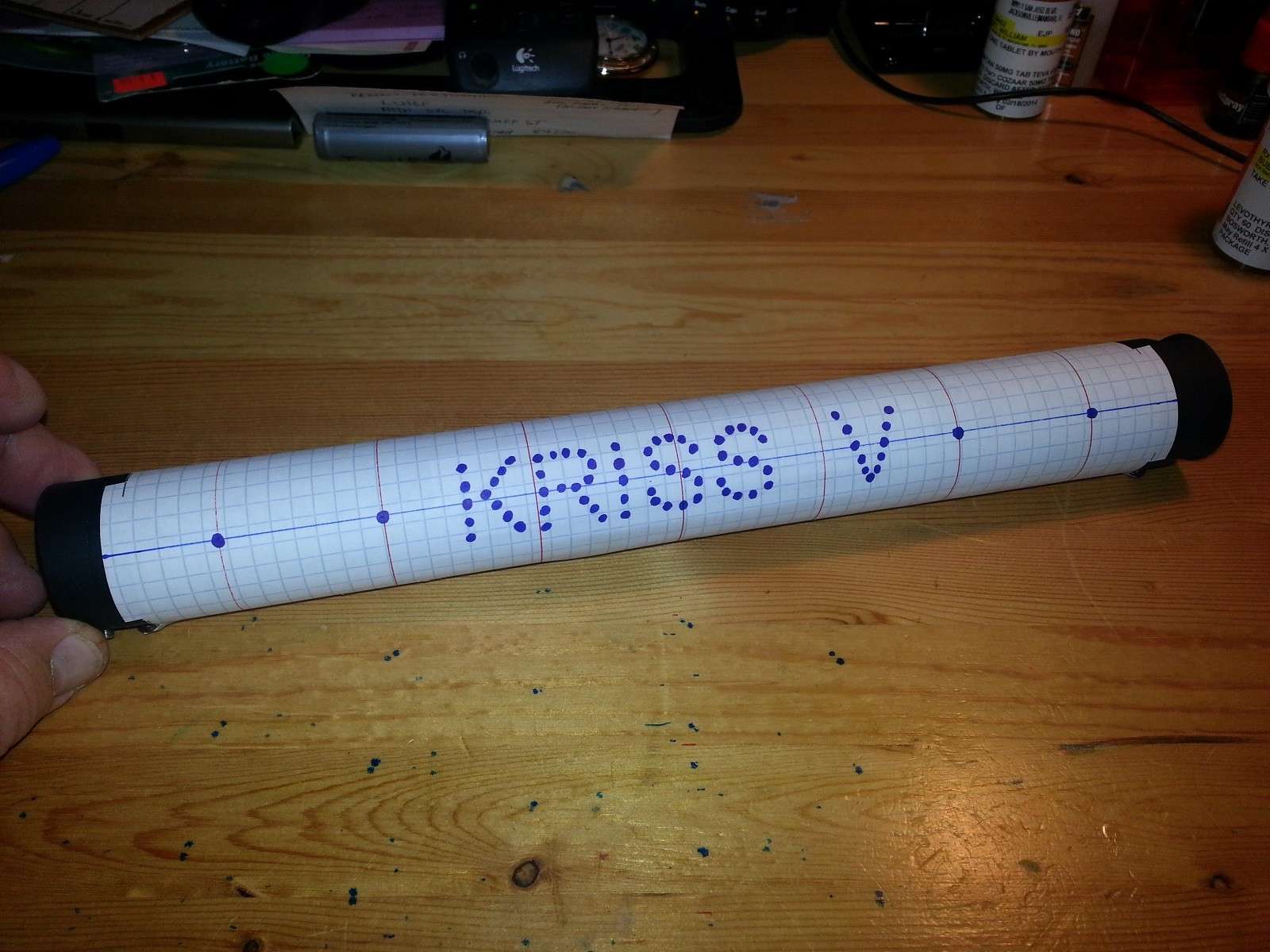 I will look at having the shroud re-anodized as to protect the metal from weather. I could paint it but, paint tends to be scratched easier, making it look like a P.O.S.. So now I gotta put on my barter hat and try to get it done.
Don't have the guts to do your self, emailed me and we'll see what can be done.
Well that's it for this project, checkout my other's:
- Well, Stipple My Grips
- New Gun Slinger in Town
- Another Brass Catcher
- Kriss Fire Control Group
Last edited by RubbaDubbaBubba on Thu Apr 04, 2013 5:09 pm; edited 2 times in total (Reason for editing : Added additional template)

RubbaDubbaBubba




Posts

: 9


Join date

: 2013-03-15


Age

: 33




mambro

MOD




Posts

: 617


Join date

: 2012-01-08


Location

: McKinney, TX



Well Done, and a great write-up!

Jedi380




Posts

: 239


Join date

: 2013-01-24


Location

: Dayton, OH



Excellent write up and pic's. Thanks

AZ2000




Posts

: 197


Join date

: 2012-08-09


Location

: AZ



Excellent Job

nih




Posts

: 177


Join date

: 2012-04-24



Outstanding, thanks, now I have something else to add to my want list!

MC BEAST




Posts

: 10


Join date

: 2012-12-31


Location

: Orange Park, FL




Xn0r




Posts

: 98


Join date

: 2012-08-16


Age

: 56


Location

: Santa Clara, CA (Silicon Valley)




P149U3




Posts

: 96


Join date

: 2013-04-23


Location

: Hinesville, GA



---
Permissions in this forum:
You
cannot
reply to topics in this forum