I was on the list last year. Bullpupforums was following the HTA 90/22 since April last year. Well I got an email two weeks ago. It is for the people on the list. They did what they said. They would give us priority and let us have first grabs at the stocks. However due to lack of funds and being out of the country, I didnt order it until this past Monday. It arrived yesterday, Wednesday!!! From MN to NY. That is pretty darn fast!!!
I traded my Mossberg 500 for a Ruger 10/22 and my friend, who previously owned the Ruber 10/22 included his DIY airsoft P90 shell. It worked but not 100% reliable. Also it was made from a low grade airsoft gun. Not like a Tokyo Marui or Echo. It was a cheap one.
Anyway the HTA 90/22 is a fantastic kit. It was $239.99. They make it in Black, OD Green, and Tan. I am most impressed with the fact that these stocks are molded in the colors. I bought the Tan stock kit (im a sucker for FDE/Tan)  I was hoping for more FDE color but I can live with it. The reason I can tell they are molded, is I drilled some holes to add an MOE rail for better light placement. And yep, molded in color.
I had my Ruger 10/22 in an Archangel AA556R stock.

So I took it apart and freed the Ruger 10/22 for the P90 style stock.
Installation is a breeze. It just drops in and you screw the two halves together.
Here it is compared to my Tokyo Marui P90 TR, that I have had for a decade. The stock is a tad bit longer, I think to satisfy the minimum 26 inch length.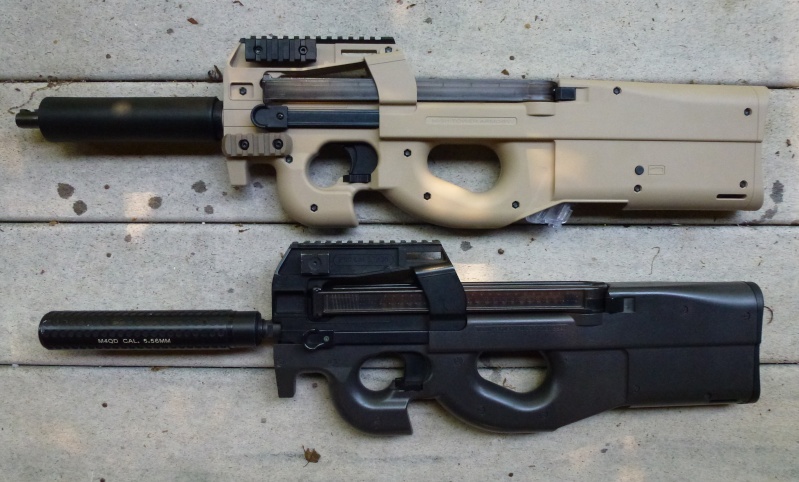 It is quite hefty with the stock. It doesnt feel cheap or plastic at all.
Video overview of features for the HTA 90/22


Anyone know a dealer that might have one of these in Dark earth at a decent price, 16.5 inch barrel for a can?  1/2x 28 threads?

AZ2000




Posts

: 197


Join date

: 2012-08-09


Location

: AZ



Are you referring to the ruger10/22 or the stock kit?

The kits are only sold thru High Tower Armory for now. No FDE. Just black, od green and tan.

You buy a 10/22 (not take down model) and buy the p90 stock from high tower armory. Then install the ruger insidr.
Is the mag on top a dummy mag or does this feed 22lr rounds just like a P90?

MadDogDan




Posts

: 175


Join date

: 2013-03-20



Dummy mag. The real mag is fed underneath.
Similar topics
---
Permissions in this forum:
You
cannot
reply to topics in this forum