I just picked up my new Vector CRB this morning and went straight to the range... The guy at the door was like, jesus, that is a hell of a gun.. the range master was like NICE! It is garnering some attention already.
I just got back into guns about a year ago when I purchased my SW M&P 9mm for concealed carry. Then I bought a Kel-Tec KSG for home defense about 6 months ago. Now, I have the Kriss Vector CRB for ??? rabbit hunting? No, just for the fun of it.
My first shot from about 30 yards was dead center... and that was right out of the box. No sighting in-necessary. I was impressed... see the pic below, that was my first 10 shots at 30 yards. I have not really shot a rifle in over 10 years I would say. The Vector makes it easy to look good on the range. Before I left the range, I mounted my viridian laser/tac light combo on the bottom of the Vector just for fun.. dead on at 50yrds with no adjustment.
The Vector was a little hard to charge at first.. actually I thought it was jammed or something when I first tried it. Then I just realized that I had to pull it back and stop being a p@ssy. The gun performed flawlessly without any problems.. I only put 100 rounds through it. I'm going to clean it up tonight and put another 100 through it tomorrow.
I'm picking up a used eotech 551 in the morning. I'm looking for extended mags.. nobody seems to have them. I want to add some accessories.. and possibly design my own. I plan to buy a rapid prototyping machine soon... so we'll see if I come up with anything cool.
Also, I'm tired of shooting paper targets.. where can I go plinking in Cincinnati or Ft lauderdale/Miami?
Thanks,
Chris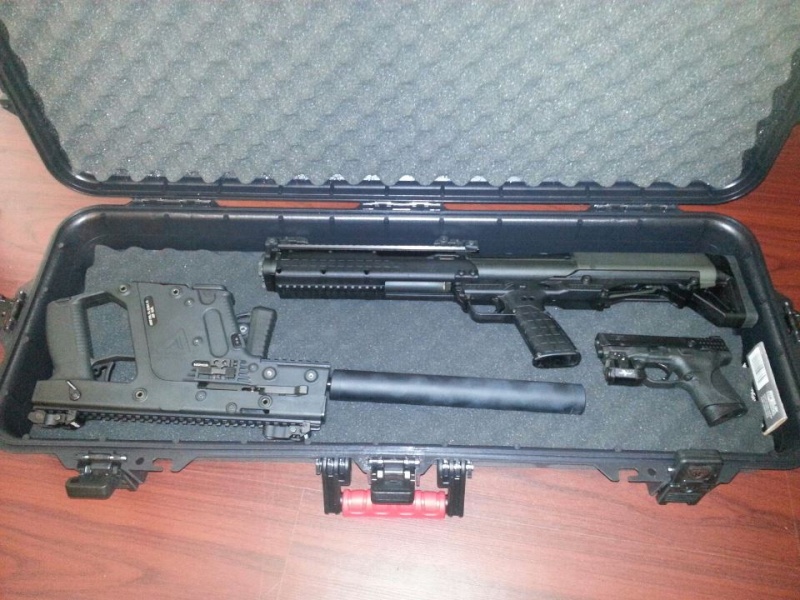 cafox




Posts

: 43


Join date

: 2012-12-24



Nice package and welcome to the board.

AZ2000




Posts

: 197


Join date

: 2012-08-09


Location

: AZ



good luck on the mags, i ended up w/ 7 kriss mags thanks to my buddy but everything is sold out or places are holding them to sell after the ban at rediculous prices.

nih




Posts

: 177


Join date

: 2012-04-24



Nice CRB. Hopefully you got a deal on it. It you want to add lighting and want an alternative to the Surefire light, try this setup like I did. It should be a few posts down with pics.

http://www.krisstalk.com/t325-lighting-options

Ezveedub




Posts

: 46


Join date

: 2012-09-28


Location

: Florida



Nice!!! another Vector KSG member!!! I too have the same case, KSG, and Vector. Welcome.
Thanks for all the info guys.. I will check that lighting setup out..
Solscud007 wrote:Nice!!! another Vector KSG member!!! I too have the same case, KSG, and Vector. Welcome.
You said you have the same case? Do you carry the KSG and the Vector in it at the same time? That is what I want to do, but the pull apart foam does't seem like it will work. So, I'm wondering how to carry both guns in there and have them properly protected.

cafox




Posts

: 43


Join date

: 2012-12-24



Hello all, Im brand new to the board, this is my first post. Bought a CRB yesterday at a gun show and got gouged, but I was so shocked I even found the gun for sale I had to have as I feel certain the ban will affect these guns.

Newby question....I see the preferred ammo list on the kriss website, but seems like it's all range ammo...not a single JHP. I noticed on some old posts that the gun does not like JHP's, but was wondering what you guys use for home defense rounds...just doens't seem right using ball ammo for home defense...

Looks like I"m going to buy the eotech 512 and the crimson trace forgegrip (green) and I'll be all set...ready to take her to the range once I get the PNW ammo I just ordered.

@CAFOX, you have the same taste I do....I have really wanted that KSG shotgun but now they are priced through the roof. Saw 2 of them at the gun show, one for $2500 the other for $3K. Ouch.

Big Mac




Posts

: 48


Join date

: 2012-12-30



---
Permissions in this forum:
You
cannot
reply to topics in this forum