So I just got my SDP and wanted to get rid of that dumb looking sling mount block attachment on the back of the gun. I read the other threads on how to disassemble the sling mount attachment and I think I have more to add. I assume no responsibility for damage to your gun through the information provided in this thread (some of this stuff takes a little skill) Here is what I did in a few simple steps:

1st. Do Safety check

2nd. Drimmel the allen wrench screws that are holding the hinge pin. You will want to make a cut so that you can unscrew these with a flat head screw driver. Do not destroy or throw away the screws or the pin, you will be able to create your own push pin sling mount with your original pin and one screw.

3rd. Slide the mount off and use an allen wrench to remove the plastic "V" cylinder. (you will see a square nut inside the back, this is also easy to remove)

4th. Remove the top rail by unscrewing the top front allen wrench screw that holds the "V" flashlight cap on the front of the upper. Then used a punch to tap out the small pin out the side of the front of the KRISS.

5th. Use a nylon stock (plastic block) and a hammer to tap the rail forward until the hidden top door is revealed.

6th. Remove the top door by using a small flat head screw driver and hammer to raise and remove the door.

7th. Turn gun upside down and the square nut will fall out. Now you must put everything back together.

Now you can make a push pin sling mount hinge pin out of your original parts.

Take the SDP sling mount and unscrew the allen screw inside the push pin mount. Then with the sling attached pull the sling push pin assembly out of the Rear sling mount block. You will now have all the parts to make your own Push Pin Sling attachment as the hinge pin.



Kiptroloxe




Posts

: 81


Join date

: 2013-01-03



Can I have your SDP block?

Also pics would be great.
Here is the thread with pics of disassembly of the sdp block:
http://www.krisstalk.com/t147-inside-the-back-of-the-sdp-w-pics?highlight=back+of
Pics of rail removal:
[b]
Pics of top door removed from another thread: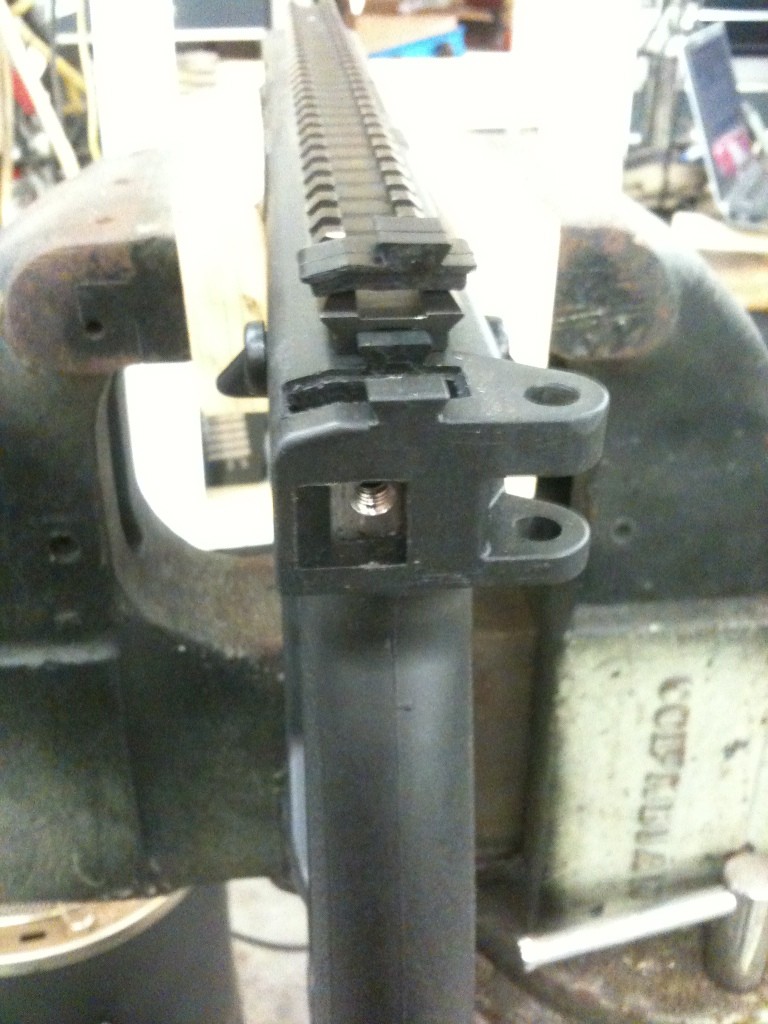 This door should pop up after litte pressure from a micro screwdriver

Kiptroloxe




Posts

: 81


Join date

: 2013-01-03



Similar topics
---
Permissions in this forum:
You
cannot
reply to topics in this forum