So KWA came out to Long Island at Strikeforce Sports, an airsoft shop and indoor CQB field. I approached both Strikeforce and KWA to offer my expertise with the KRISS and to bring my Carbine for show and tell alongside the airsoft KRISS.
Yes the charging handle is bent. It happend during transport. They had 2 AKs, 1 M4 and the KRISS plus like 4 hand guns shoved into a large pelican 1650 case. No paddinge except a liner inside.
It was an interesting day. I spent most of my time dispelling myths and correcting people who just have no idea about firearms. First they would be surprised that my KRISS is real. Then they ask if it is full auto. Other silly questions like the legality of it and I explained to them that getting into shooting "real steel" (it is how airsofters refer to firearms) is actually very easy and doable outside of NYC.
Well I got to take a somewhat indepth look at the non-firing prototype KRISS Vector. They call it non-firing but it can shoot. It just doesnt shoot that far. It will shoot like 80 feet but it is not accurate the bbs are falling so to speak.
Anyway I compared it to my KRISS Carbine and it is a good replica. The finish on the polymer housing has a slight texture to it and looks to be ABS plastic. The current markings are on it but it still has the old style safety selector. They are supposedly going to update it to the current position and with a dot rather than F/S.
I tried to swap lowers but it doesnt seem to work haha. No Full auto carbines, sorry.
I didnt take the slider/bolt out of the airsoft gun but I compared the two lowers and at initial glances they looks very similar. Almost identical. But then you start to notice subtle detail differences. Like the shape of the bolt is just ever so slightly different than the real KRISS bolt.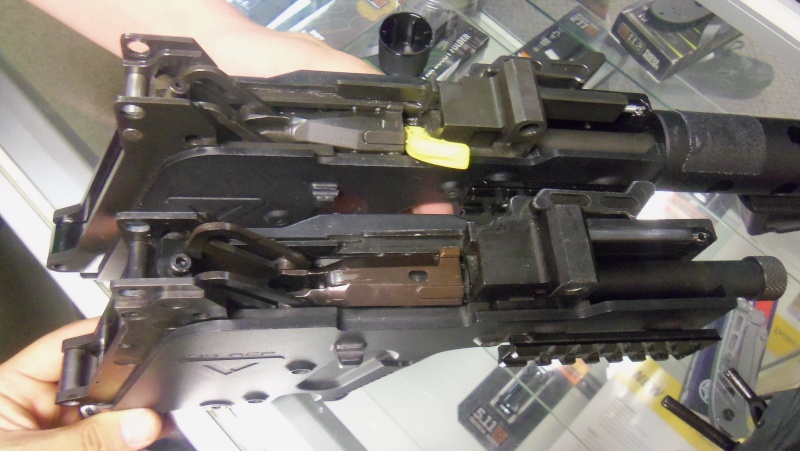 The KWA is on the right. You can see these cross bars behind the slider buffer.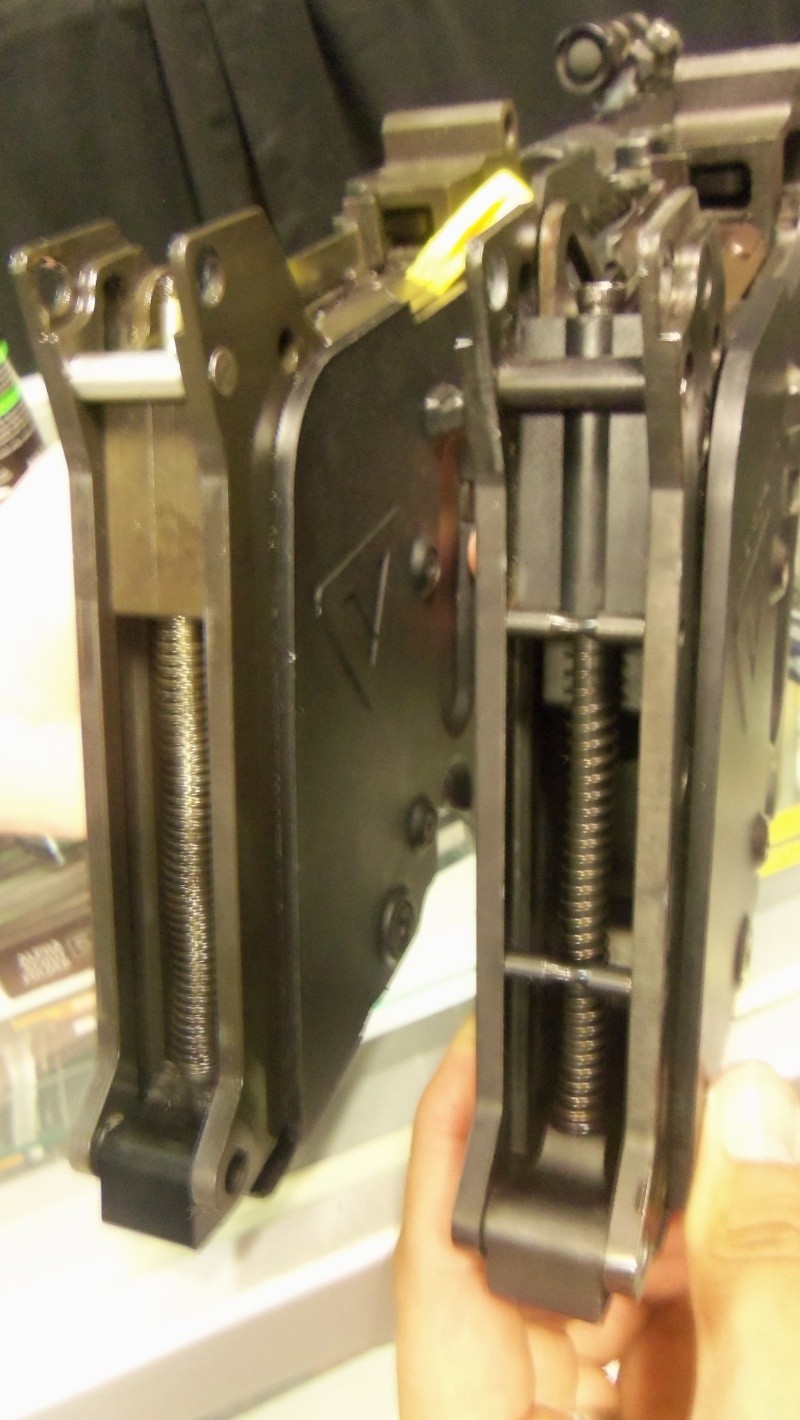 I got to dress up the KWA KRISS prototype yesterday with my KRISS accessories. I discovered that the tolerance for the E1B integrated light is a tad bit too small. The receptacle in the upper binds on the scoutlight tailcap. It was extremely difficult to get in and remove it. So for this picture, I removed the tailcap and it fit just fine. I brought this issue to the KWA rep's attention, so hopefully the issue will get resolved in the next prototype phase and when the Production version is released. While it was dressed up, I removed the Eotech and tried my Magpul KRISS sights folded. They arent that great haha. It was a bit difficult to hold the kriss up with one hand and the blades are very short. I would have preferred taller blades.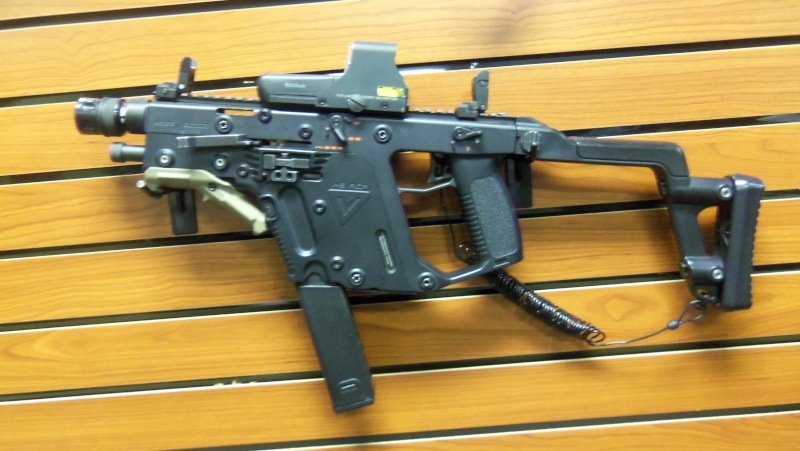 I was right, the Surefire Vampire light clears the barrel just fine.
Here is the KWA KRISS SMG inside my custom case. I was curious how a SBR would look inside the case.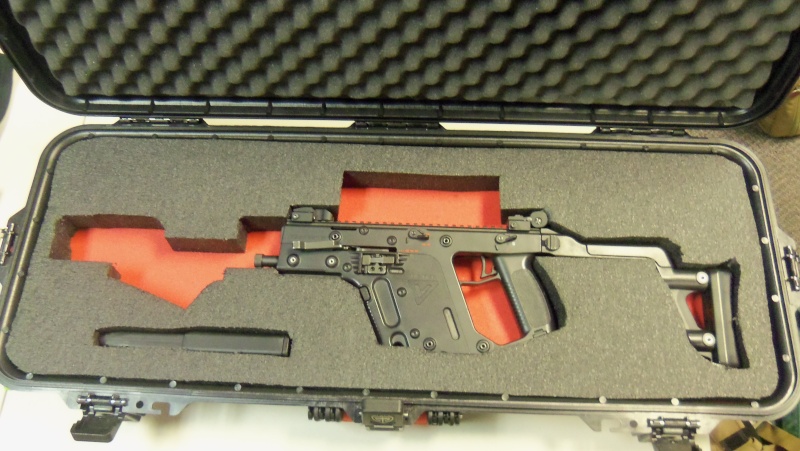 so are you going to get one when there come out
Pardon my ignorance, but how far does an airsoft gun shoot and how are they powered? I seemed to miss the airsoft memo.
Scott

nellattocs




Posts

: 25


Join date

: 2012-09-10



They are all based on some form of air pushing the 6mm bb out. There are three types.

Spring powered is just pulling back a spring that pushes on a plunger. You release the plunger and the spring pushes the plunger thereby pushing air. A lot of nerf guns work on this principle.

Electric powered guns uses a motor and gears to pull the puller back. There is a gap in the gear that interacts with the plunger. So the plunger gets released and then when the gear revolves, the teeth pull it back. It is how you can get full auto.

Gas powered. A liquid is poured into the metal magazine, usually it is actually propane but they call it green gas. There is a small valve and in the case of a pistol, pulling the trigger releases a small firing pin that hits the valve release and the liquid vaporizes into a gas. It expands and forces the bb out. As a by product you get blowback and the slide will kick back.


Edit: Recently a new company has been making air powered pistons. Kinda like rotary tools and air powered tools. The player will have a reservoir, like paintball, with a hose that goes into the grip of an AR. This is what cycles the piston and you can get very fast rate of fire.

Most Airsoft shoot a .20g bb. There are different weights for varying performance. They shoot. On average 350 FPS. They sting.

Some major tuning and you can reach out to like 300 feet.

The Kriss will be gas powered.
---
Permissions in this forum:
You
cannot
reply to topics in this forum