Hey guys, I'm new to the boards. I've tried to search for this topic with no success, so forgive me if it's redundant. I have the opportunity to buy a Kriss Vector CRB from a guy who says he's never fired it. Do you have any suggestions and advice for what I should be looking for to make sure it's not a lemon? Just wondering what type of Serial Number, old vs. new parts, etc. I should be looking for. Any help would be greatly appreciated!

themattman




Posts

: 2


Join date

: 2013-02-13



Hello and welcome to the forum!
This thread will help you get an idea of what has changed over time with some things you can see and some things you cannot:
http://www.krisstalk.com/t88-kriss-vector-factory-revisions
The easiest way to get an
idea
of the age of the CRB is to look at the safety lever config (older marked "F" and "S" or the newer just a red dot) and the branding of the Vector on the upper (newer removing the "Super V' and "SO" naming). Another clue on the inside would be the color of the buffer. Green is last known to be current.
I'm one of those folks that sent in an early serial number CRB to KRISS USA to have it "refreshed", so age was not much of a problem for me. (FWIW, I don't think there is additional value in an "early" serial number vs. a current production run.) Early serial numbers had some production issues that were revised over time. With your seller claiming to have never fired it, there is not much to go on to know if it feeds and fires reliably "as is".
The serial number would also give an indication if it had a "lifetime" warranty associated with it. The new Vectors no longer have "lifetime", but technically that only applied to the "original" owner anyways. It has been my experience that KRISS USA will work with you if you have a legitimate issue with the weapon... even if you are not the original owner. Mileage may vary, but they took very good care of me more than a year ago... and I'm nobody special either. It doesn't hurt to get the serial and call KRISS USA and get the history. When it was built, has it been in for any service, etc.
With the public snatching up anything/everything right now, I'd also be on the lookout for a "restricted" state config making it's way over to your area. For example, a California fixed stock and bullet button.
Other items to consider would be any factory or additional accessories being included in the selling price. Is it a "TacPac" config? Are the iron sights there? Does it come with 25+ round magazines? Vertical grip? Hard case? Cleaning kit? etc... All that being said, if the price is right for you, then go for it.

mambro

MOD




Posts

: 617


Join date

: 2012-01-08


Location

: McKinney, TX



Thanks! That was very helpful. I went to look at it last night and it's a beauty (see pic) so I picked it up, with the hicap mag for $2100. Serial number is in the 3000 range, so it has the A1 bolt, but everything else looks like the latest parts. Do you know what the A2 bolt would cost? And anything else I'd need to get to "refresh" it? Thanks guys.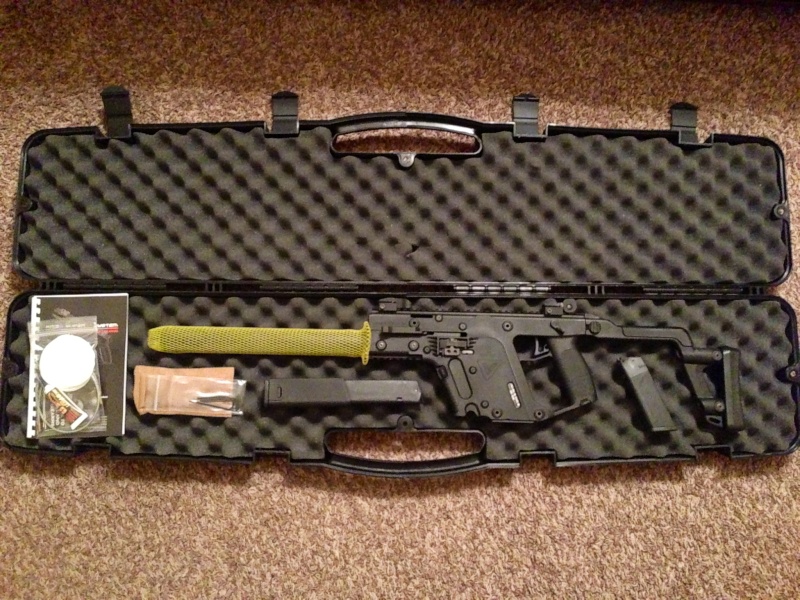 themattman




Posts

: 2


Join date

: 2013-02-13



themattman wrote:...Do you know what the A2 bolt would cost? And anything else I'd need to get to "refresh" it?
You should contact KRISS USA directly and you may be pleasantly surprised... it could be as little as round trip shipping costs. Congrats on the good find and let us know what KRISS USA ends up doing for you on any update/refresh work.

mambro

MOD




Posts

: 617


Join date

: 2012-01-08


Location

: McKinney, TX



---
Permissions in this forum:
You
cannot
reply to topics in this forum